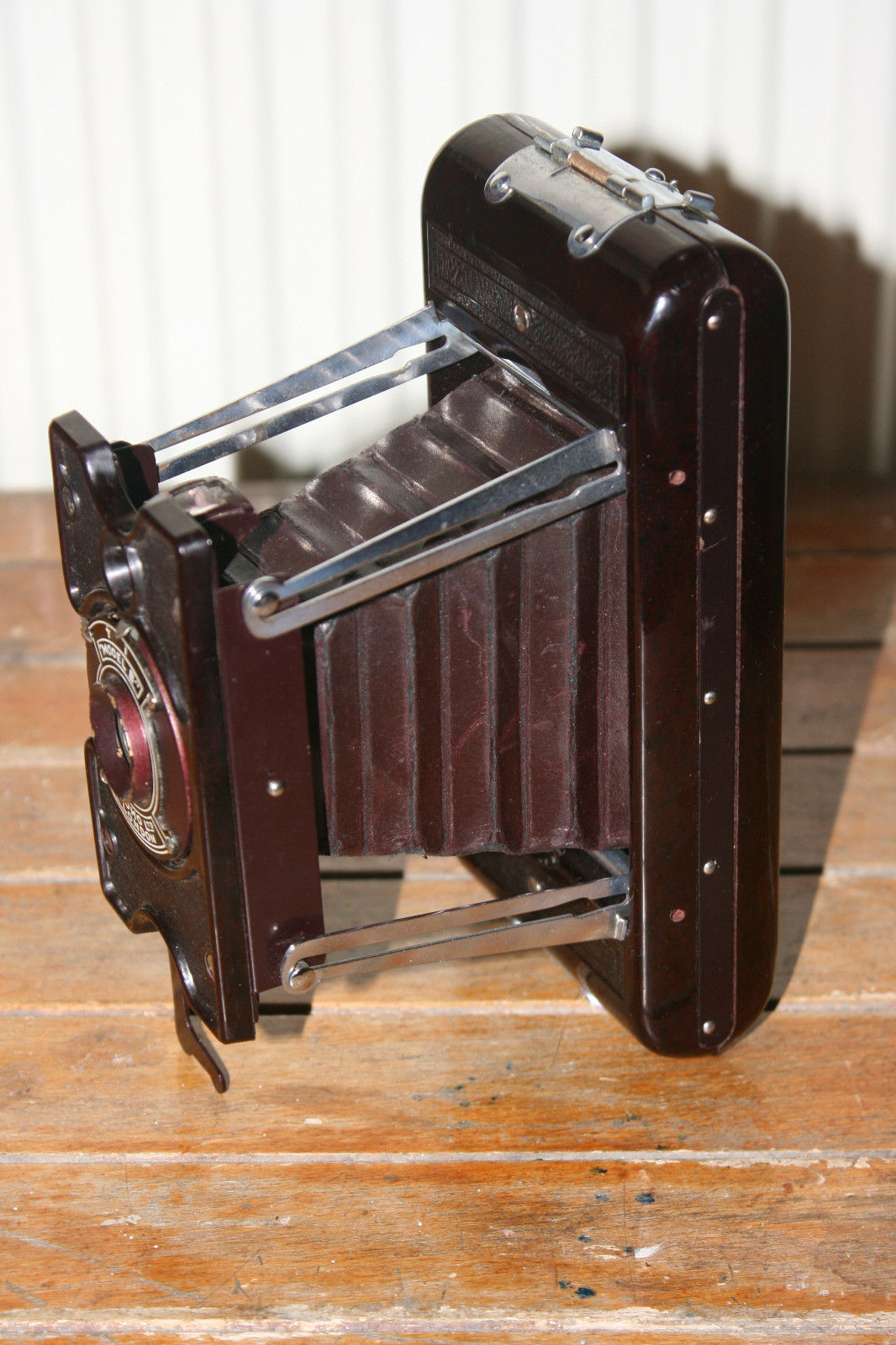 Click here to see similar items on eBay, and to buy.
This is a Soho Ltd. London "Model B" Bakelite folding 6×9 cm camera manufactured circa 1935. The shutter is not working – the shutter blade is loose and isn't actually responding to the release lever, it just slides open when the camera is tilted to the right and closes when it's tilted to the left. This may be fixable, but not by me. In other respects its condition is good, the Bakelite is undamaged and the metalwork is free of corrosion. However, the chrome plating has peeled off slightly on one of the side arms, and is pitted on another. There are also minor scuffs and marks, and some wear of the lens surround, probably from rubbing against a case (which I do not have). The lens and viewfinder optics are clean and undamaged and appear to be free of fungus. The bellows are undamaged and still appear to be lightproof.
I'm supplying this with a vintage wooden-cored film spool, shown in one of the photos, and a plastic spool (not shown) which will probably be more useful if the camera is repaired and used.
There are details of the manufacturer here: http://camera-wiki.org/wiki/Soho_Ltd.
The company was an important pioneer in the development of Bakelite cameras.
Although the shutter doesn't work, this is still a very collectible camera which would look very good as a display item. They generally sell for fairly high prices, but as usual I'm starting low and with no reserve. I'm separately selling some other photographic items. If you buy multiple auction items from me please request a combined postage invoice, I'll do my best to get it down to the lowest possible price. I do not make any profit on postage.
International buyers: The postage price shown is based on an estimate of packed weight, about 600g; if it turns out to be cheaper than expected I will refund the balance.
Click here to buy, and to see similar items on eBay
---
Category: Cameras and Photography:Vintage Photography:Vintage Cameras:Folding Cameras
Location: Bayswater, London