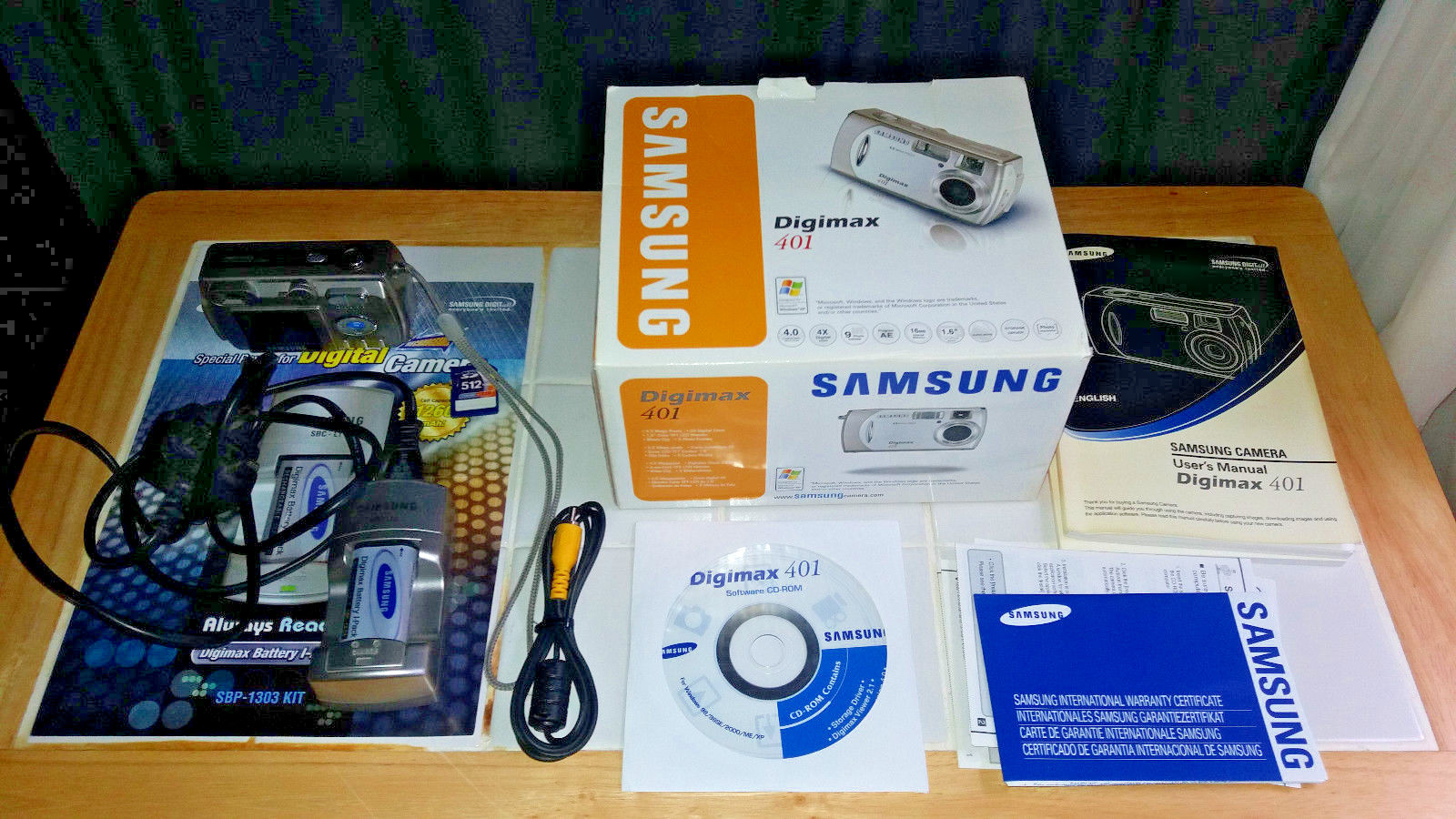 Click here to see similar items on eBay, and to buy.
TheITEMSamsung Digimax 401 Digital Camera with I-Pack Battery Charging Kit (SBC-L1 / SBP-1303)All original components, box, leads, documentation, disk, etc. (see pictures) and 512MB SD card.
In good working order other than the crack that you can see on the pictures. The crack does not effect the functionality of the unit. Some tape has been put onto the battery door to strengthen it after the crack, and the door doesn't sit quite flush, but it shuts and functions without any issues.
Has served me well but i just don't use it any-more, time for it to have a new home.
DISPATCH& DELIVERYIwill only send to UK addresses. (no international shipping)Itemswill be well packed, tracked, & often delivered quicker thanstated. I am sometimes away though, so no guarantees, other thanthose stated on the listings.Ifyou specifically need an express dispatch/delivery then it cansometimes be arranged; please contact me before purchasing to checkavailability.Alternativelyyou are also welcome to collect. (see the buyer notes section belowfor more info)
PAYMENT REQUIREMENTSIfyou pay with PayPal then I will only send the item/s to your PayPalregistered address, or a click & collect address. That way I amensured seller protection.Ifyou require me to send items to a different address (other than yourPayPal registered address, or a C&C address) then you must payvia a method whereby you surrender your buyer protection. Forexample; PayPal friends & family, postal order, cash, or cheque.If you are asking me to surrender my seller protection then I dontthink its unreasonable to ask you to surrender your buyerprotection in return. Ifyou are collecting an item then cash on collection is my preferredmethod of payment. I may accept PayPal in certain circumstances byprior arrangement, but I reserve the right to ask you to use thePayPal friends & family option and I may also requirephotographic identification if I feel it is necessary.
BUYERREQUIREMENTSUKbidders only! – If you are based in or registered in a non UKcountry then I will only accept bids/purchases if you pay via postalorder or cash; even if your primary delivery address is in the UK.IfI deem a transaction to be risky then I reserve the right to (at anypoint during the process) to ask for payment via cash or postalorder. You do not have to accept these terms, but I then I reservethe right to cancel the sale.Bybidding on or purchasing this item you acknowledge that you haveread all terms within this description, and that I reserve the rightto enact any terms written within it, or to cancel the transaction;at any point, should I deem it necessary to do so.
FEEDBACKInthe unlikely event that there is a problem with your item ordelivery then please email me before leaving feedback.Ialways try my best to rectify any problems in the easiest waypossible, without any additional expense to the buyer.Pleasebear in mind that i cannot control the postage system once the itemhas been dispatched.Iwill leave feedback once it has been received.
RETURNSPOLICYIdo not offer an optional returns policy. You cannot just change yourmind.Ifthe item has been damaged during shipping then of course this can besorted out. You must report it, with detailed photos of both theitem & the packaging; within 7 days of receipt.Ifa fault has occurred during shipping, or has slipped through the netduring testing; then of course this can be sorted out. I will notlet a genuine buyer be out of pocket. However; this is a used item,and as such it does not come with any warranty. If such a faultdevelops it must be reported within 14 days of receipt, and anyclaim of this nature may be subject to a miss-use assessment.(alsosee fraud notes below)
FRAUDNOTESAllserial numbers are recorded &items aresecuritymarked to help prevent fraud!Ina case of a return due to faults or damage; Iwill not sign for any packagebeforefirst checking what is inside. Anyreturnsmust be sent via a courier who canwait while the contents are checked. Thismay also includeinternal components should I deem it necessary. Allgenuine return costs will be covered.Allrequirementsinthis listing gosome-way to helping me protect myself against scammers and fraud, ifyou are a genuine person with noting to hide then I'm sure that youcan appreciate this.
QUESTIONS?Feelfree to contact me and i will do my best to help.Iwill usually reply within a few hours, but please allow up to 36hours.
Click here to buy, and to see similar items on eBay
---
Category: Cameras and Photography:Digital Cameras
Location: Rugeley