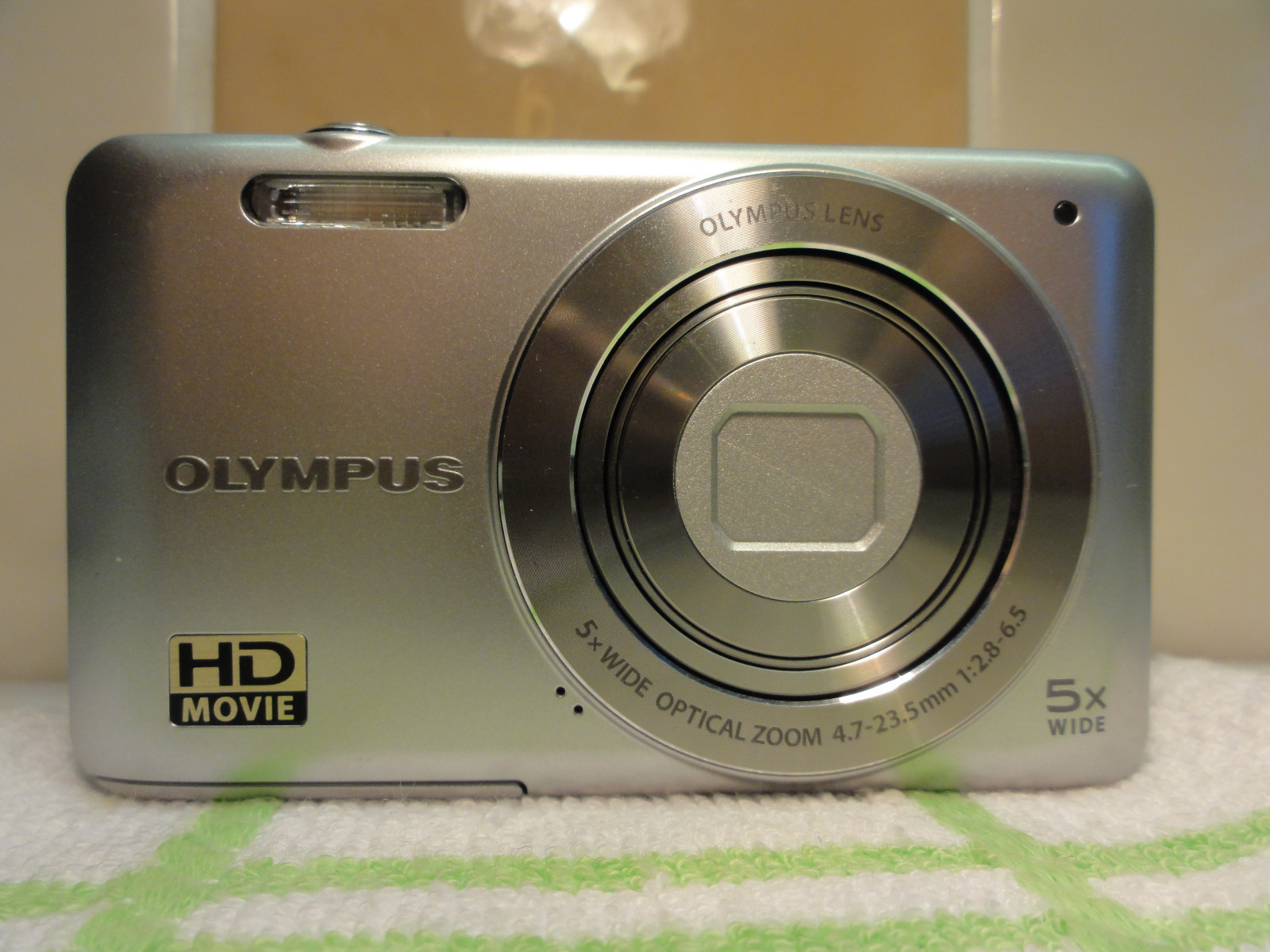 Click here to see similar items on eBay, and to buy.
On offer is an  Olympus VG-120 14.0 megapixel camera . The camera is in full working order. It is in a VERY GOOD used condition.
Please have a look at the photographs and use the option to enlarge them. What you will see is the actual camera on offer and use the facility to enlarge them
 Photograph 4 shows a normal picture taken by the camera. Photograph 5 shows one taken using the optical zoom and photograph 6 shows one taken using both the optical and digital zooms.
 
The Olympus VG-120 is a 14.0  Megapixel camera fitted with a 5X  Wide Angle Optical zoom lens and 4X Digital zoom. It has a nice clear bright 3.0 inch LCD viewing screen.
The camera is a delight to use with its user friendly modes. It takes Excellent quality photographs and HD  Movie clips with sound.The cameras has  inbuilt scene modes …Face Detection..Magic Filters..Panoramic mode..In camera editing.. Red-Eye removal (For further details of the camera many features and its full specifications please see below)
Apart from the  camera you will receive a New 16GB SD Memory card…a Black Olympus camera case… New Wrist strap.. Mains battery charger.. Olympus battery… Olympus  USB lead … Full user manual on disc..
The battery is charged whilst still in the camera using the usb lead and provided charger,it can also be charged via the USB port on your computer
Post and packing will be 4.80p via Royal Mail 1st class signed for mail, The items will be well wrapped and sent  boxed (not original) for safety.
Payment by Paypal only please.
If you have any questions please feel free to ask.
14 Megapixels 5x Optical Zoom 3.0 LCD, 720P HD Movie SDHC Compatible,USB 2.0 High-Speed; SD/SDHC compatible (card not included) CCD Contrast Detection; One touch 720p HD movie with sound Digital image stabilization; Intelligent Auto; AF Tracking; Face Detection Shadow Adjustment technology; Magic Filter still and movie; Panorama mode
Product InformationThe Olympus VG-120 is a HD camera that features a wide-angle lens that allows you to capture vast landscapes clearly and vividly. Featuring a 5x optical zoom, this Olympus 14.0 MP camera brings distant objects five times closer without losing on details and sharpness. You can record HD videos with this Olympus 14.0 MP camera at a resolution of 720p, to deliver a true-to-life footage. The Olympus VG-120 supports various scene modes, which allow you to be creative with your photographs. Compose, capture and view your photographs and videos on the 3-inch LCD display of this Olympus 14.0 MP camera. With a high ISO sensitivity (up to 1600), this HD camera captures clear photos even in low-light conditions
The value begins with an impressive feature set that includes: 14 MP, 5x wide-angle optical zoom lens, 720p HD video capture, and a large 3.0-inch LCD to capture and review your images. Add pocketable portability, Digital Image Stabilization, AF Tracking, and the shot-enhancing Magic Art Filters. Top this combination off with an affordable price point ($139.99) and you have a multi-function camera in a slim body that far surpasses other models in its class.
High-Definition with High Impact: 720p HD Video
A picture is worth a thousand words. So what do 30 frames per second say when shot in gorgeous HD? Extend your creativity with the option of capturing the action as it happens and seeing it unfold all over again on your television screen or on YouTube. The VG-120 shoots gorgeous 720p HD making every day a movie day. Playback is also a breeze. Gone are the days of friends and family huddling around a tiny LCD to see the pictures you just snapped.
See the Whole Picture on an Extra-Large 3.0-inch LCD Display
Composing your shot has never been easier. With an extra-large, 3.0″ display, composing that perfect shot is a breeze. See what you've been missing with smaller displays! This large, crisp 230,400-dot LCD makes it a pleasure to share shots on the spot with family and friends.
Frame Your Work Before You Frame Your Work: 14 Megapixels and 5x Wide Zoom
Forget post-edits with the VG-120. Simply zoom in and crop right in the camera to frame your shot perfectly the first time. With a 26mm wide-angle lens and 5x zoom, get closer to the action than ever before. 14-megapixels ensures that each shot will look beautiful, even when printed poster-size.
Express Your Inner Artist with Magic Filters
The VG-120 is equipped with in-camera Magic Filters that enable users to enhance and customize images as they're being captured. Have more fun and flexibility without expensive and time-consuming computer software.The Magic Filters include: Pop Art enhance and saturate colors to create vivid, high-impact pictures that express the joyful, lighthearted feeling of the Pop Art style of the 1960s; Pin Hole reduce the peripheral brightness of an image as though it were shot through a pin hole, connecting the viewer intimately with the subject at the center; Fish-Eye emulate the wide-angle of a fish-eye effect lens by taking extremely wide, hemispherical images and magnifying the center of the frame; Soft Focus — encloses the foreground of an image in gentle, pastel colors with a soft, elegant focus; similar to effects achieved in a studio. Drawing turn your image into a sketch outline for children to color. New! Sparkle shoot photos with the luxurious feel of added twinkling lights; and New! Punk create two-tone images full of rock and roll spirit.Digital Image Stabilization to Eliminate Blurry Images The VG-120 features Digital Image Stabilization (DIS) to capture crisp, clear pictures. By boosting the camera's ISO sensitivity and shutter speed, DIS freezes the action and provides virtually blur-free images, even when you or your subject is moving.
Easier Group Shots with Face Detection!
Wedding, birthday and family reunion group shots have never been easier with Face Detection. The VG-120 detects up to 16 faces within the frame and automatically focuses and optimizes exposure to capture sharp, brilliant portraits and group shots.
Intelligent Auto Thinks for You
With the Intelligent Auto Mode in the VG-120, your camera knows and it automatically identifies what you are shooting (i.e., Portrait, Night + Portrait, Landscape, Macro and Sports) and adjusts the camera's settings to capture the best quality results. Anyone has the ability to jump into this quick and hassle-free feature that does the thinking for them and produces incredible images.
Lock Onto the Action with AF Tracking
AF Tracking technology locks on your fast-moving subject and continuously adjusts focus and brightness. This enables you to keep fast-moving, unpredictable subjects like small children and pets in focus for the perfect shot.
Perfect Fix In-Camera Editing
Olympus' Perfect Fix feature offers quick solutions for unanticipated image quality issues, which may be caused by several adverse conditions. Lighting Fix can be used to adjust any underexposed areas and Red-Eye Fix can be used to reduce the effects of red-eye sometimes caused by a direct flash. Additional in-camera editing functions can be quickly accessed right in the camera by the touch of a button; features available include resizing and trimming.
High-Quality Stylish Cameras in a Range of Colors
Your creativity is not limited to just what's in the camera. The VG-120 will be available in three colors – silver, black, and red – to suit anyone's style.
Sharing is Caring: SD Compatibility
With SD compatibility, the VG-120 allows users to share their work easily through SD-compatible computers, digital picture frames and HDTVs.
.Product IdentifiersBrandOlympusModelVG-120MPN228180EAN0050332177376Key FeaturesCamera TypeCompactOptical Zoom5xDigital Zoom4xSensor Resolution14.0MPScreen Size3″Optical SensorSensor TypeCCDLens System Macro Focus Range2.76 in. to Infinity (w) / 23.6 in. to Infinity (t)Focus AdjustmentAutomaticFocal Length Equivalent to 35mm Camera26 – 130 mmExposure Light Sensitivity Max200Camera FlashFlash TypeBuilt-InCamera Flash FeaturesAuto Flash, Fill-in Flash, Flash Off, Red-eye Reduction FlashMemory / StorageSupported Flash MemorySD Card, SDHC CardViewfinderViewfinder TypeWithout ViewfinderDimensionsDepth0.75 cmHeight2.2 cmWidth3.8 cmWeight119 grDisplayDisplay TypeLCDDisplay Size3″ConnectionsConnector TypesUSB to computerFile FormatDigital Video FormatAVI, HD (High Definition), Motion JPEGStill Image FormatJPEGResolutionMax Video Resolution640 x 480 (VGA)Other FeaturesFeaturesAF Tracking, Face Detection, High Definition, Image Stabilisation, Not Interchangeable Lenses, Red-eye Correction, USB 2.0MiscellaneousWhite BalanceAuto, Daylight / Sunny (Preset), Fluorescent (Preset), Overcast (Preset), Tungsten (Preset)
Click here to buy, and to see similar items on eBay
---
Category: Cameras and Photography:Digital Cameras
Location: Wirral, Merseyside