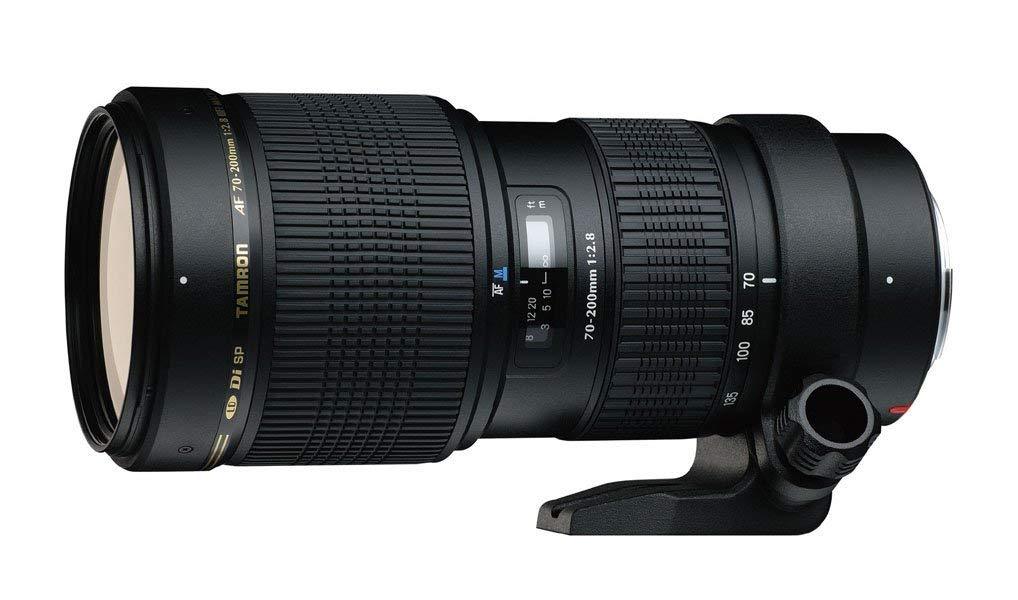 Click here to see similar items on eBay, and to buy.
Product detailsStyle Name: CanonProduct Dimensions: 19.4 x 9 x 9 cm ; 1.33 KgBoxed-product Weight: 1.9 KgItem model number: A001-CASIN: B0013DG08E
Product descriptionStyle Name:CanonProduct DescriptionCluttered backgrounds rendered well out of focusTamron's SP 70-200mm F/2.8 Di LD (IF) Macro lens exemplifies the second of the two zoom focal lengths considered essential by many professionals. At just 7.6 inches long and weighing only 1150g, long days of shooting become easier, and high quality optical design and manufacturing assure the image quality that makes long shoots rewarding. A fast and constant F2.8 maximum aperture renders cluttered backgrounds well out of focus, extends low-light shooting freedom and enables a brighter viewfinder image. The IF (Internal Focus) mechanism maintains a fixed barrel length throughout the focusing range, and optics featuring LD (Low Dispersion) glass assure remarkable image quality.Di LensesTamron Di lenses are performance optimised for digital SLR cameras and usable with DSLRs featuring sensors commonly referred to as APS-C, measuring approximately 24mm x 16mm, as well as larger full frame (36mm x 24mm) sensors and 35mm film SLRs.Low dispersion glass reduces chromatic aberrationSuper Performance for Discriminating Shooters (SP)Tamron SP (Super Performance) series is a line of ultra-high-performance lenses designed and manufactured to the exacting specifications demanded by professionals and others who require the highest possible image quality. In creating SP lenses Tamrons optical designers put their foremost priority on achieving superior performance parameters.Low Dispersion (LD) Glass for Great Lens SharpnessLow dispersion (LD) glass elements in a lens help reduce chromatic aberration, i.e. the tendency of light of different colours to come to different points of focus at the image plane. Chromatic aberration reduces the sharpness of an image, but glass with an extremely low dispersion index has less of a tendency to separate (diffract) a ray of light into a rainbow of colours. This characteristic allows the lens designer to effectively compensate for chromatic aberration at the centre of the field (on axis), a particular problem at long focal lengths (the telephoto end of the zoom range), and for lateral chromatic aberration (towards the edges of the field) that often occurs at short focal lengths (the wide-angle end of the zoom range.)Small minimum focal distance allows for great close shotsInternal Focusing (IF) SystemInternal focusing (IF) provides numerous practical benefits to photographers, including a non-rotating front filter ring that facilitates the positioning of polarising and graduated filters, and more predictable handling as the lens length does not change during focusing. Crucially, Tamrons Internal Focusing (IF) system provides a close minimum focusing distance (MFD) throughout its entire focusing range. Also, IF improves optical performance by minimising illumination loss at the corners of the image field, and helps to suppress other aberrations that become more troublesome at different focusing positions.
Click here to buy, and to see similar items on eBay
---
Category: Cameras and Photography:Lenses and Filters:Lenses
Location: london