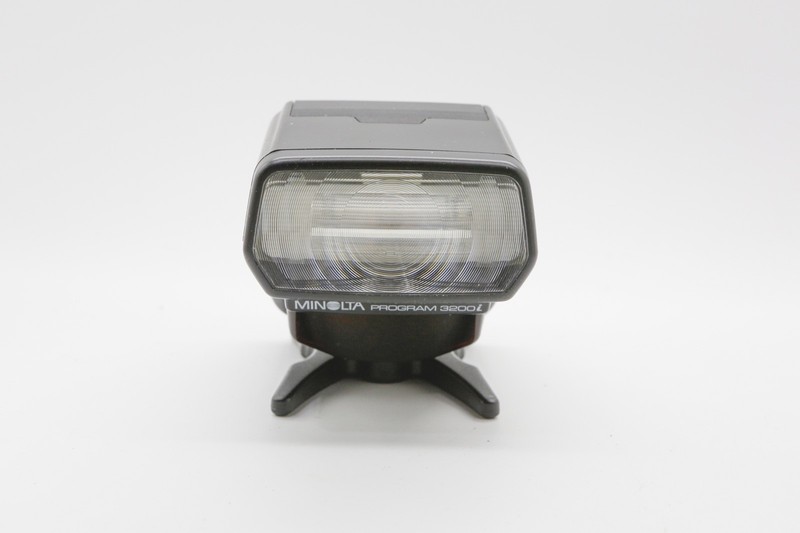 Click here to see similar items on eBay, and to buy.
Minolta Dynax Program3200i Flash for Minolta Dynax FilmSLRs, GN32m (4292759)
Product Condition
Clean ConditionTested And WorkingNo Corrosion In Battery ChamberIncludes Original carry Case
Product Description
Original Minolta flash, fully automatic with power zoom for most Maxxum and Dynax 35mm SLRs, 
plus Vectis S-1 cameras (see below)
Genuine Minolta flash
28-85mm power zoom
Guide number 22-32m
AF illuminator built in
TTL auto flash control
Fully automatic operation
Solidly made, in Japan
For Minolta Dynax SLRs
For Minolta Maxxum SLRs
For Minolta Vectis S-1
Not for 5000 7000 9000,
Dynax 3L 30 40 or 50
Manual on digital cameras
This is an original Minolta flash unit, dedicated for many Minolta Dynax and Maxxum AF 35mm SLR cameras (see the Compatibility section below for a full list), plus the S-1 APS model, but not the very early 5000, 7000 and 9000 AF, or late Dynax 3L, 30, 40 or 50 film models. It can be fitted to some digital cameras, but with manual exposure and other restrictions see below. The flash is in good used condition with instruction manuals and batteries. Please read the full description for more important information.
Built in power zoom feature adjusts the coverage from 28 to 85mm automatically depending on the lens in use, including zooms. This gives extra coverage with wide angles, and extra range with telephotos. The guide number varies from 22m (71 feet) at 28mm, through 28m (91 feet) at 50mm to 32m (104 feet) at the 85mm setting, with ISO 100 film. This gives a theoretical maximum range of up to 20m (65 feet) with a 50mm f/1.4 lens, and faster film gives even longer ranges but as usual, actual range will depend on the conditions.
Exposure control is automatic, and measured through the lens (TTL) for the most accurate exposure possible. Works in all exposure modes, including program, and sets shutter speed/and/or aperture automatically. Low power option to avoid over exposure for close up shots, and allow faster recycling. Auto power off feature to conserve battery power.
Built-in AF illuminator to aid focusing in low light on suitable cameras. The flash is very well made (in Japan), measures only around 80mm (3 inches) tall on the camera, and weighs just 200g without batteries. It's powered by 4x standard AA batteries, and disposable Alkaline (included) or rechargeable NiCd or NiMH types can be used, which are inexpensive and easily obtainable.
An excellent flash for many Minolta Dynax and Maxxum film users.
Compatibility
This flash has the proprietary Minolta shoe fitting, and will work with many Minolta Dynax and Maxxum 35mm film SLR models including the Dynax/Maxxum 3000i (Alpha 3700i), 5000i (Alpha 5700i), 7000i (Alpha 7700i), 8000i (Alpha 8700i), 2xi, 3xi (Alpha 3xi), 5xi (Alpha 5xi), 7xi (Alpha 7xi), 9xi (Alpha 9xi), 300si, RZ330si (Alpha 101si), Dynax 303si (Maxxum QTsi, Alpha 360si), Dynax 404si (Maxxum STsi, Alpha Sweet S), Dynax 500si (Maxxum 400si), RZ 430si, 450si (Alpha 303si), Dynax 500si super (Maxxum 500si), RZ530si, 550si (Alpha 303si super), Dynax 505si (Maxxum HTsi), Dynax 505si super (Maxxum XTsi, Alpha Sweet), 600si, 650si (Alpha 507si), 700si (Alpha 707si), 800si (Alpha 807si), Dynax 60 (Maxxum 70, Alpha 70), Dynax 4, Dynax 3 (Maxxum 4, Alpha Sweet II L), 5 (Alpha Sweet II), 7 (Alpha 7), 9 (Alpha 9) and the APS Vectis S-1 (but not the S-100 which has no external flash shoe). It's also suitable for two very early Minolta digital cameras: the RD-175 (also sold as the Agfa ActionCam) and Dimage RD3000 see below for later models.
Manual use on some digital cameras
AF flash units like this one are NOT fully compatible with most Minolta, Konica Minolta or Sony Alpha digital cameras, which use a different pre-flash or ADI exposure control system. These models require Konica Minolta (D), Sony or other compatible flash units. However, this flash will fit and fire on many of these digital cameras, and will set the shutter speed automatically when charged in A mode. This means that it can be used (ideally set to low power) as a trigger for slave studio flash units. This is particularly useful on Sony Alpha cameras using Live View, where the image can be very dim in M (manual) mode. Suitable models for manual operation include the Sony Alpha A33, A35, A37, A55, A57, A65, A77 (original model only), A100, A200, A230, A290, A300, A330, A350, A380, A390, A450, A500, A550, A560, A580, A700, A850, A900 and NEX-7, the Konica Minolta Maxxum/Dynax 5D and 7D, plus the Minolta or Konica Minolta Dimage 5, 7, 7i, 7Hi, A1, A2, A200, Z1, Z2, Z3, Z5 and Z6 digital cameras.
Dynax flash units like this one are NOT suitable for the Minolta 5000 AF (Maxxum 5000, Alpha 5000), 7000 AF (Maxxum 7000, Alpha 7000), 9000 AF (Maxxum 9000, Alpha 9000), the Minolta or Konica Minolta Dynax 3L (Maxxum 3), Dynax 30, Dynax 40 or Maxxum 50, the Sony NEX-6, Alpha A7, A7 II, A7R, A7R II, A7S, A7S II, A58, A68, A77 II, A99, A3000 or A6000 cameras with standard hot shoe, manual focus Minoltas, or any other make of camera. 
Serial Numbers
4292759
Included In Sale
Minolta Program Flash 3200i
Notes :
Uses 4x AA Batteries (not Included)
FLASH STAND NOT INCLUDED, USED TO PHOTOGRAPH ITEM
x_vers_795 (GS 7.0.7 (795))
 _gsrx_vers_841 (GS 7.0.16 (841))
Click here to buy, and to see similar items on eBay
---
Category: Cameras and Photography:Flashes and Accessories:Flashes
Location: South Coast