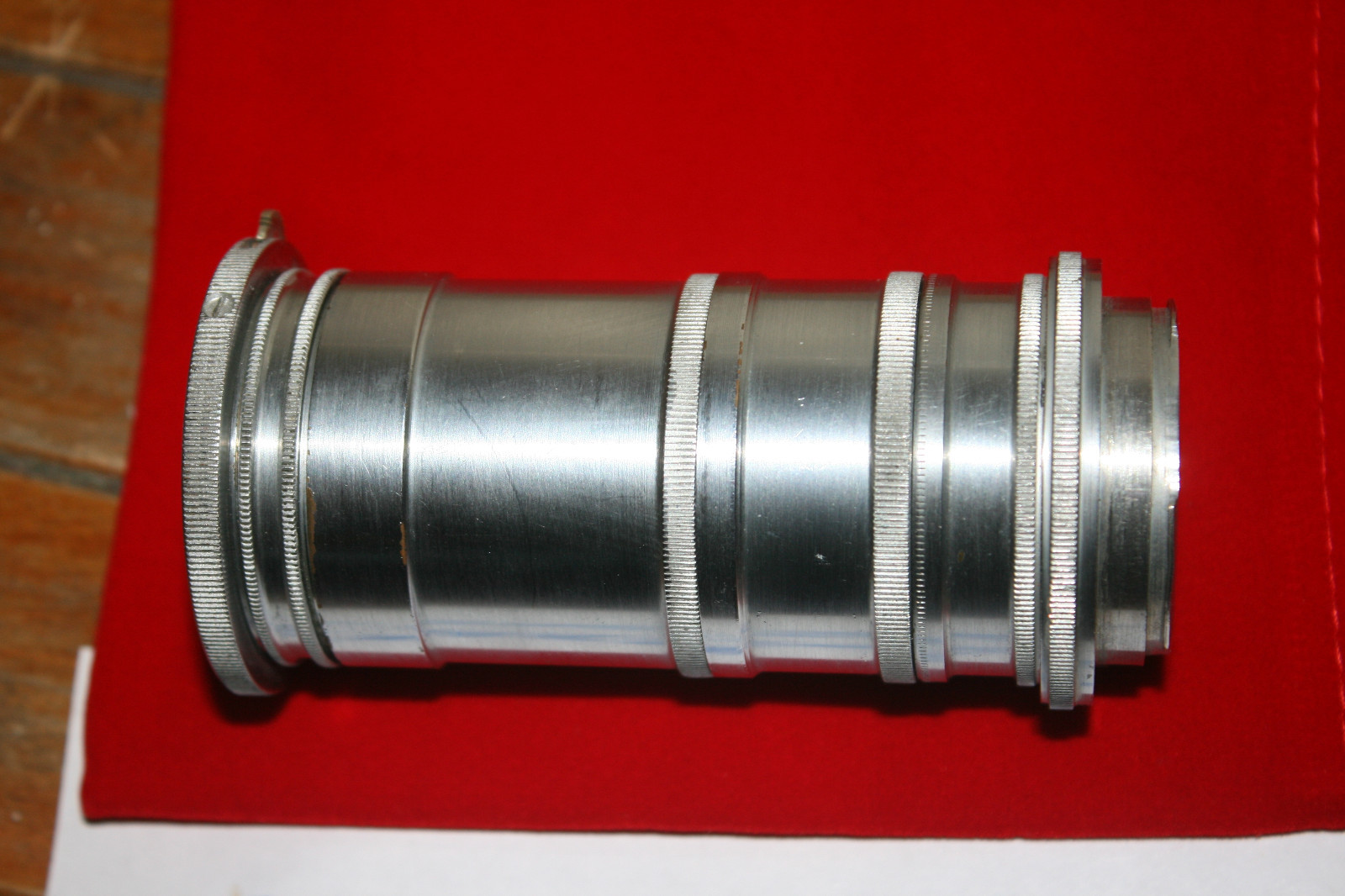 Click here to see similar items on eBay, and to buy.
This is an unusually long set of manual extension tubes for Exakta and Exa 35mm SLR cameras (use with Exa 1 cameras is not recommended; because of their odd shutter design images are vignetted top and bottom if tubes are used). The make is unknown. The set consists of four screw-together tubes plus front and rear bayonet mounts, which I'm supplying in a cloth storage bag (not original). Tube lengths are approximately 6mm, 12mm, 22mm and 40mm, the two bayonets add about 10mm, giving the following lengths singly or combined: 10mm (bayonets only), 16mm, 22mm, 28mm, 32mm, 38mm, 44mm, 50mm, 56mm, 62mm, 72mm, 78mm, 84mm and 90mm (measured length with all tubes screwed tight is actually 88mm). This suggests that they were designed to give 1:1 macro ratio with a 90mm lens, roughly 1.8:1 with a 50mm lens. I'm supplying them in a cloth storage pouch. The last pictures show this set fitted to an Exa 2 body with Meritar lens (camera and lens not included), and a 20p coin taken with all tubes and a 50mm Meritar lens at f16 on a Canon Eos with Exakta adapter. Condition is average used with minor signs of wear. There is slight damage to the chrome at one end of the longest tube.
As usual I'm starting low and with no reserve. I'm separately selling more accessories in this fitting including several short "D-Ring" 5mm extension tubes, and other cameras and lenses. If you buy multiple auction items from me please request a combined postage invoice, I'll do my best to get it down to the lowest possible price. I do not make any profit on postage.
International buyers: The postage price shown is based on an estimate of packed weight, about 300g; if it turns out to be cheaper than expected I will refund the balance.
Click here to buy, and to see similar items on eBay
---
Category: Cameras and Photography:Lenses and Filters:Lens Adapters, Mounts and Tubes
Location: Bayswater, London