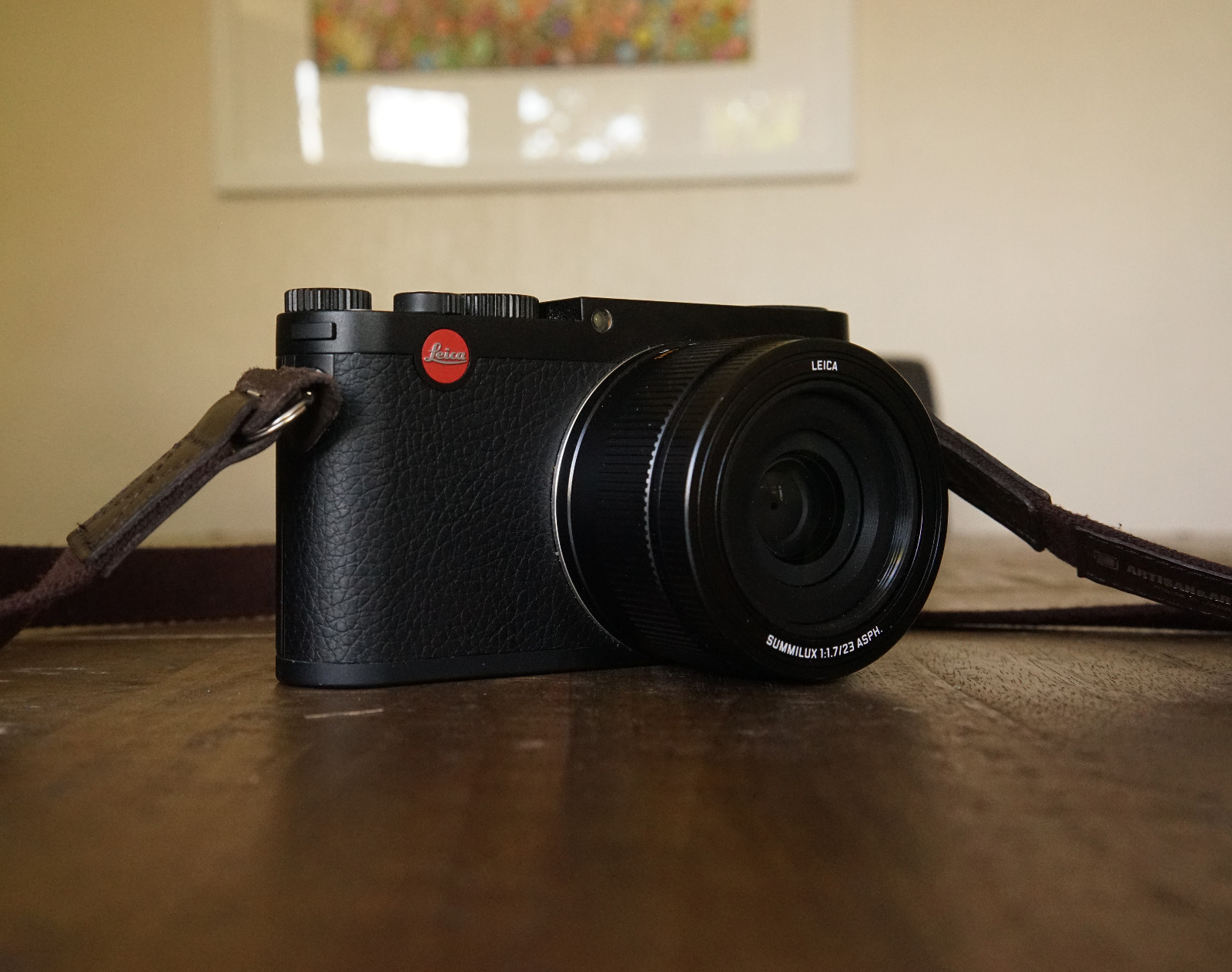 Click here to see similar items on eBay, and to buy.
I am selling my Leica X (Typ 113) because I have upgraded to a Leica M (and sadly my wife won't let me keep both of them). It's a fantastic camera, easy to use and produces incredibly sharp images (please see attached photo of my wife which was shot directly into bright sun using the camera's in-built flash) through it's fast, high quality Leica Summilux 23mm f/1.7 lens. I've only used it lightly as a backup to my Leica M and DSLR as it was much more portable and could fit in a coat pocket/small camera bag which made it very handy for occasions like weddings and family days out. The autofocus is extremely quick and the option to switch to manual focus is very useful when it comes to portraits – also the flash is pretty good & doesn't overpower the image like cheaper compacts/system cameras. The camera itself is in great condition although there is a very small nick on the front/bottom right of the camera. There is some light scratching on the back screen although it's not really noticeable and you can't really see it when the screen is on.
One of the things I like about the camera is that is built very much on the lines of the Leica M series (it looks like a Leica M), albeit slightly smaller, and incorporates the same shutter speed and aperture functionality through dials on the top of the camera that allow you to be much more creative with your photography. In a similar way ISO is controlled via the on-screen menu (-you can set the ISO to Auto whilst you set the shutter speed and aperture . The camera has a number of useful functions allowing you to adjust the exposure metering, sharpness, colour saturation, picture mode (standard, vivid, natural, B&W, and the signature Leica high contrast black & white to creat those astonishing Leica style high contrast images), noise reduction, & so on. Using Auto mode; the camera performs extremely well – in my opinion, better than most compact cameras although I feel that the camera is closer to an interchangeable lens compact system camera (without the interchangeable lens but you don't need it with a f/1.7 Summilux!) – it's unfair to describe this as a compact camera (as eBay auto-selected) as the solid build and image quality puts it far ahead of it's contemporaries. It is an amazing camera and one that does get noticed when you're out an about as Leica have an undeniable reputation for producing high-end, high quality cameras. 
I no longer have the box or software disc (which can be downloaded although you don't need it – any photo editing software should be able to open the JPEG (standard image) files). The camera also shoots RAW images (editable in software like Photoshop or Lightroom amongst others) to give you even more creative control over your images (like sharpening the image, adjusting the exposure, or even changing the image colour – say from Black and White back to colour – after the photo has been shot. I will include two batteries – one Leica, one 3rd Party (which holds the same charge as the Leica battery), the operating manual, and an Artisan & Artist strap – a high quality strap made in Japan. The camera uses SD cards – I use 32GB Sandisk.
If you want to buy a truly special camera and elevate your photography to a new level, or even to get it as a present for someone; this is one of the best cameras you can get for the money. Because I don't have the box I am pricing it considerably lower than you would pay for a boxed version – looking at the other listings they range from 1500-2500 so grab a real bargain!!!
Postage: The camera will be sent recorded/tracked. As I don't live or work near a post office, I will only be able to post the camera on the first available Saturday after the auction ends. If I can post it sooner, I will do so. Eastern European buyers: Due to numerous problems with the post in Eastern European countries, I will not ship the camera unless the buyer has 100% positive feedback and once posted I will not be responsible if there are any problems with the post. (Note: this only applies to Eastern European countries – sorry).
I hope I have covered everything but if you have any questions, please let me know.  I'm also having a major declutter & selling a fair bit of camera gear including a Leica ever ready case for the X Typ 113 / X Vario so please check out my other listings which I will be posting over the next week or so.
And now some technical stuff from an online review:
"Embracing high quality imaging and compact forms, Leica's X (Typ 113) Digital Camera packs in a large 16.2MP APS-C CMOS sensor and marries it to a Summilux 23mm f/1.7 ASPH. Lens that will provide users with spectacular images and an equivalent field of view to the iconic 35mm frame. The camera also shows off Leica's brilliant Made in Germany design with a sleek black body with a brown leatherette trim. Furthering the camera's capabilities is a physical control ring located on the lens barrel, offering tactile manual focusing during shooting. The wide f/1.7 aperture then adds more creative possibilities by allowing photographer's to take control of their depth-of-field and take in more light for low-light shooting. Merging a variety of different technologies, this camera is able to capture remarkable stills at up to 5 fps in the raw DNG file format as well as Full HD 1080p video at up to 20 fps. On top of this, it can utilize sensitivities of up to ISO 12500 for sharp, clear photos in less-than-ideal lighting conditions. In addition to manual focus, this camera does come equipped with an 11-point AF system that will quickly and accurately lock onto your subjects.
16.2-millon-pixel, APS-C CMOS sensor35mm (equivalent) f/1.7 lensISO 100-12,5003in, 920,000-dot LCD1/2000sec maximum shutter speedAvailable in black, or silver and brownPrice 1,550If theres one badge guaranteed to make photographers pulses race just that little bit faster, its the iconic red dot of Leica. The German company has been making cameras for 90 years, and its M-series rangefinders are perhaps the most desirable on the planet and among the most expensive.Like other manufacturers, Leica has had to adapt and reinvent itself for the digital era. It still makes M-mount rangefinders, but its expanding product range also includes the S-system medium-format DSLR and the T-system compact system camera. At the other end of the scale, it sells its own reworked versions of Panasonic cameras, including the superb D-Lux, which is based on the Lumix DMC-LX100 with its Four Thirds sensor and fast zoom lens. In the middle lies the X range of fixed-lens, APS-C-sensor compacts.The Leica X (Type 113) is in essence a development of the earlier Leica X2, which featured a retro design with analogue control dials and a fixed 23mm f/2.8 lens. The X is a larger camera with a significantly faster lens its 23mm f/1.7 gathers a stop and a half more light, making it the fastest prime on any current fixed-lens camera. Meanwhile the X2 gets a cosmetic refresh, and continues in the range as the X-E.16.2MP APS-C CMOS Sensor Packing in a larger 16.2MP APS-C CMOS sensor into a compact point-and-shoot body, the Leica X is able to balanced excellent image quality with sensitivities up to ISO 12500 and portability. The size of the sensor will create sharp, highly detailed imagery and allow users to capture images with shallow depth-of-field. Leica Summilux 23mm f/1.7 ASPH. Lens Providing photographers with the perspective of an iconic 35mm lens with the APS-C sensor, the fixed Leica Summilux 23mm f/1.7 ASPH. Lens will appeal to many with its outstanding quality and fast f/1.7 maximum aperture. This lens also features a physical focusing ring for exacting control during manual focus and can focus as close as 7.9″. The lens is also optimized to minimize aberrations with a 10 element in 8 group design that incorporates two aspherical elements. Fast Operation Autofocus and continuous shooting greatly benefit from the speedy processing of the Leica X (Typ 113). Up to 11 AF points are available for rapidly locking onto your subjects and the camera can shoot continuously at speeds up to 5 fps for 7 frames. Full HD Video Recording In addition to brilliant stills, the Leica X (Typ 113) can record full HD videos at 1920 x 1080p at 30 fps. Audio recorded via the internal mic benefits from an integrated wind-cut filter to ensure clarity. Videos can be saved in the Internet-friendly MP4 format and uploaded directly to mobile devices or social media sites without conversion. Additionally, users will be able to watch their creations on a larger screen via the built-in HDMI-out connection. 3.0″ 920k-Dot TFT LCD Used for composition and image review, the 3.0″ 920k-dot TFT LCD located on the rear of the camera offers bright, vivid colors with a wide viewing angle for clear images from all sides. This interface also provides 100% coverage, so you will always know exactly what you are going to get. DNG File Recording Maximize your post-processing capabilities by recording in the raw DNG file format, which provides increased data and latitude for pushing images later on. This also allows users to dial in color without relying on previously compressed data and ensuring that they are delivering the best image possible. Body Design Made in Germany with an aluminum and magnesium design, this sleek camera offers the durability and beauty expected from Leica's long legacy of camera design. The Leica X (Typ 113) is lightweight and compact while still utilizing a large APS-C sized sensor and 23mm f/1.7 lens allowing users to always have high quality imaging capabilities by their side. Also, it has a leatherette grip that allows for comfortable, secure handling of the camera. Other Features Color settings Standard, Dynamic, Natural, B&W Natural, and B&W High Contrast are available for creating ready-to-go JPEG files for sharing and viewing. Manual exposure control is available along with full auto and aperture priority so everyone from beginners to experienced professionals can get started shooting. A built-in flash and hot shoe are available for adding some light to your scene. Exposure compensation from -3 to +3 in 1/3 stop increments. Optional optical and electronic viewfinders are available for more natural viewing. Records images to SD, SDHC, and SDXC memory cards.
Click here to buy, and to see similar items on eBay
---
Category: Cameras and Photography:Digital Cameras
Location: Orpington, Kent