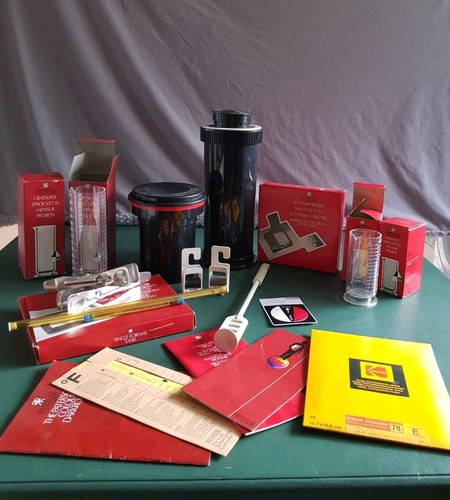 Click here to see similar items on eBay, and to buy.
Joblot Dark Room Equipment (Mostly Paterson, Some with Original Boxed)
A joblot of used darkroom equipment. All in good condition. Some items with their original boxes & instruction leaflets etc.
This huge lot seems to relate to 35mm colour processing and includes:
– 1x Paterson Colour Print Drum
– 1x Paterson Super System 4 Universal Film Developing Tank (with 1 reel / spool)
– 2x Paterson Test Strip Printer (boxed)
– 2x Paterson 150ml Graduate Measure (boxed)
– 2x Paterson (colour) thermometers (with protective sleeves)
– 1x Exposure Calculator
– Various Film Clips and other film handling accessories
– 1x Paterson Single format easel 12.7 x 17.8cm : 5 x 7″ (boxed)
– 1x Paterson Pre-soak Temperature Calculator
– 1x Kodak Ektacolor 78 E Luster Paper (please note this package has been opened and nay no longer be usable or expired but I have included in case it is still usuable – most if not all of the pages are intact inside an unsealed black wrapper)
– Various Paterson Guides & information documents
Ideal starter kit for anyone looking to get started in analogue / film / darkroom photography.
If i can supply any additional photos or information please let me know
Click here to buy, and to see similar items on eBay
---
Category: Cameras and Photography:Film Photography:Darkroom and Developing:Processing and Finishing Equip
Location: Portstewart