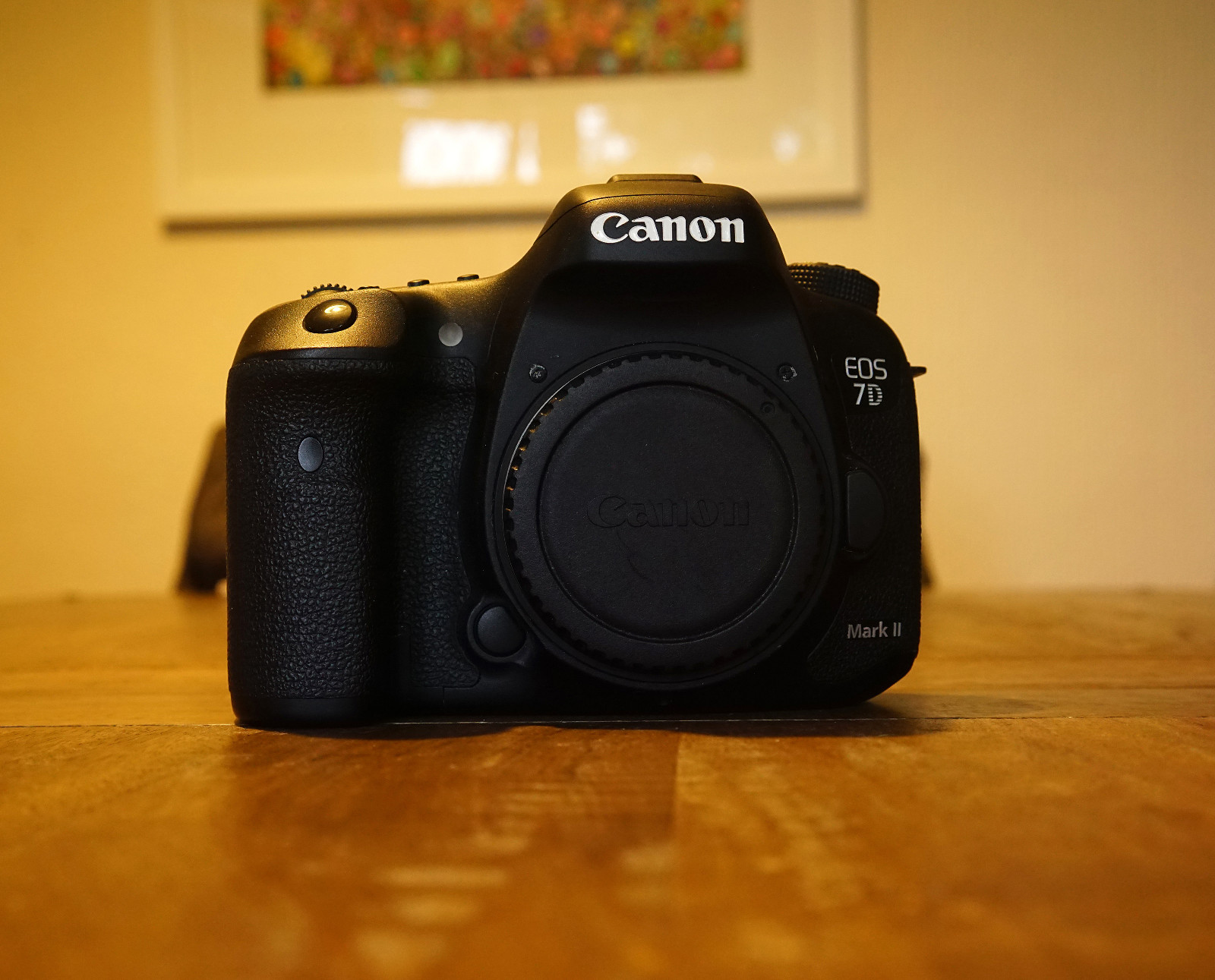 Click here to see similar items on eBay, and to buy.
I am selling my Canon Eos 7D Mk II. I only used it for two or three trips and a handful of events (so it's been used very little) before upgrading to an Eos 5DsR as by then my focus had shifted from events/airshows/wildlife (where the 1.6x multiplier, 65 all cross type autofocus sensor with incredible tracking speed, and extremely fast 10 frames per second burst speed made a massive difference) to macro, landscapes, and travel photography where a slower, full-frame camera was more appropriate. It's since been sat in the box for a while (I did test it before listing and it works fine) and I'm selling it to declutter a bit after a house move & to put some money towards a mirrorless system. It does produce some great pictures (see attached low-res copies of photos shot with the 7D Mk ii and a 500mm L) and the fast shutter speed combined with some of the best motion tracking autofocus I've ever seen on a camera means that it never misses any of the action – so it's perfectly suited for fast moving events like sports/motorsports, bird photography, air shows, or even just pictures of the kids running around the garden – but equally it does an impressive job capturing anything from landscapes & holidays, to street photos etc. I switched cameras purely because I wanted a full frame for extreme macro photography though the 7D Mk ii still does a great job capturing bugs (particularly ones in flight thanks to the sheer speed it's autofocus tracks moving subjuects.
As mentioned the camera has had very light use – I moved from a 70D to the 7D Mk II but within a matter of months, the 5DsR had come out and I switched to that – so it is in fabulous condition with a couple of barely noticeable scuffs on a bottom corner. To give you an idea of how little use it's had – the strap never came out of the wrapper! There is a small amout of scuzz/scuffing (?) around one of the lugs where you attach the strap (see the 4th photo) – it's possible you could clean it off though I've never tried – it's possibly some dirt from a temporary strap I used (and got rid of as I didn't like the neoprene) but it doesn't affect the camera and you can't see it when you put the strap on.
The camera comes boxed; I'm not sure it has all of the card inner but I'll include it if I find it, and comes with the charger, cables, manual, and software disc. I'll include a hahnel battery as an extra but not as part of the auction as it's an older battery and may hold a full charge, but probably enough for a day's intensive shoot – if this is your first camera I would recommend you get a couple of spare batteries anyway – Hahnel are very good as are Duracell's batteries from their website. Otherwise it'll take the standard Canon LP batteries.
If you are looking to take your photography to the next level, or even to give to someone special as a present, or as a student first camera; this is an exceptionally good and versatile camera – and will really make a difference to the quality of your images so grab yourself a bargain as for the money, you can't beat this camera!!! I'm selling a ton of other camera gear & other things as part of a declutter so please check my listings over the coming days/weeks for more bargains!
Postage: The camera will be sent recorded/signed/tracked and be well packaged in the original box. I don't live or work near a post office so if you do win the auction, I will only be able to post in the following Saturday after payment has cleared (at the latest) as I need to get into town to post it. You can collect in person & obviously I'll refund the postage if you elect to do so. Eastern European buyers – please note that I will only ship to those with 100% positive feedback and I will not accept returns once the item has been posted (to an Eastern European country) – this is solely down to a number of problems I've had with stuff going missing in the post once it reached that country. Both international and domestic buyers: if I can get the postage cheaper, I will refund the difference.
Think I've covered everything but if you have questions, please ask.
Now the technical bit:
Model Number:7D Mark IIAlternate Model Number(s): Camera Format:Pro SLRCurrently Manufactured:YesRetail Price:$2149.00Street Price:$1,231.00Date Available:2014-11-15Tripod Mount:YesWeight:49.0 oz(1,388 g)
includes batteries, kit lensSize:5.9 x4.4 x3.1 in.
(149 x112 x78 mm)Waterproof:NoWaterproof Depth:n/aImage SensorSensor Type:CMOSSensor Manufacturer:CanonEffective Megapixels:20.2Sensor Format:APS-CSensor size:337.5mm2 (22.50mm x 15.00mm)Approximate Pixel Pitch:4.11 micronsFocal Length Multiplier:1.6xAspect Ratio:3:2 Color Filter Type:RGBGAnti Aliasing Filter:FixedSelf-Cleaning:YesSensor shift image stabilization:NoOn-Sensor Phase Detect:YesDxO Sensor Score:70DxO Color Depth Score (bits):22.4DxO Dynamic Range Score (evs):11.8DxO Maximum Effective ISO Score (iso):1,082Image CaptureImage Resolution:5472 x 3648(20.0 MP,3:2),
3468 x 2432(8.4 MP,Other),
2736 x 1824(5.0 MP,3:2),
1920 x 1280(2.5 MP,3:2),
720 x 480(0.3 MP,3:2),
5472 x 3648(20.0 MP,3:2),
4104 x 2736(11.2 MP,3:2),
2736 x 1824(5.0 MP,3:2) Image File Format:JPEG (EXIF 2.3), 14-bit RAW, MRAW, SRAW, RAW+JPEG Continuous-mode frames/second:9.5Video CaptureCan take movies:YesMovie Resolution:1920×1080 (60p/50p/30p/25p/24p)
1280×720 (60p/50p/30p/25p)
640×480 (30p/25p)Movie File Format:MP4/MOV (Video: H.264 Intra-Frame / Inter-Frame, Audio: Stereo AAC/Linear PCM)Composite Video Out:YesNTSC/PAL Switchable Video:YesVideo Usable as Viewfinder:YesHD Video Out:YesHD Video Connection:HDMILens & OpticsLens Mount:Canon EF/EF-SLens:Canon EF-S 18-135mm f/3.5-5.6 IS STMFocal Length (35mm equivalent):29 -216mmFocal Length (actual):18 -135mmZoom Ratio:7.50xAperture Range:f/3.5 – f/22 (wide) / f/5.6 – f/36 (tele)Integrated ND Filter:NoNormal Focus Range:39 cm to Infinity
15.4 in to InfinityMacro Focus Range: Filter Thread:67.0mmThread Type:n/aOptical Image Stabilization:YesDigital Zoom:YesDigital Zoom Values:3-10x available during movie recording onlyAuto FocusAuto Focus:YesAuto Focus Type:OVF: AF-dedicated CMOS sensor, 65-points, all cross-type AF points, center dual cross-type point for f/2.8; Live View: Dual-Pixel CMOS AFAuto Focus Assist Light?YesManual Focus:YesViewfinderViewfinder:Optical / LCDViewfinder Type:SLR type; eye-level pentaprism, 100% coverage, 1.0x magnification, 22mm eyepoint, -3 to +1 diopter, interchangeable focusing screensFocus Peaking:NoEVF Resolution:n/aViewfinder Magnification (35mm equivalent):0.63xViewfinder Magnification (nominal/claimed):1.00xDisplayEye-level Viewfinder:YesRear Display:YesRear Display Size (inches):3.0Rear Display Resolution:1,040,000 dots(346,600 px)Touchscreen:NoArticulating Screen:NoTilt Swivel Screen:NoSelfie Screen:NoMax Playback Zoom:10.0xTop Deck Display:YesExposureMaximum ISO (native):16000Minimum ISO (native):100ISO Settings:Auto, 100 – 16000 in 1/3 or 1EV steps, Expandable to 25600 and 51200Auto ISO Mode:YesWhite Balance Settings:Auto, Daylight, Shade, Cloudy/Twilight/Sunset, Tungsten, White Fluorescent, Flash, Custom, Color TemperatureShutter Speed Range:1/8000 – 30 sec Bulb Mode:YesExposure Compensation:+/- 5.0EVin 0.3EV stepsMetering Modes:150K-pixel RGB+IR metering sensor, 252-zone Evaluative, Center-weighted, Partial, SpotProgram Auto Exposure:YesAperture Priority:YesShutter Priority:YesFull Manual Exposure:YesCreative Exposure Modes:Three custom settings (C1-C3)Self Timer:10 or 2 secondsTime Lapse (intervalometer):YesHigh Resolution Composite:NoFlashBuilt-in Flash:YesFlash Modes:E-TTL II, Manual; wireless slave flash supported via built-in flashFlash Guide Number (ISO 100):11.0 m /36.1 ft.Flash Range Description:Lens aperture dependent; GN= 11m (36 ft.) at ISO 100Max Flash Sync:1/250Flash Exposure Compensation:+/- 3.0 EVin 0.3EV stepsExternal Flash Connection:Hot Shoe, PC SocketBuilt-In Wireless Flash Control:Full TTL exposureImage StorageUsable Memory Types:CF1 / SD / SDHC / SDXCUHS Support:UHS-IOther Memory:UDMA7/UHS-I compliantDual Card Slots:YesRAW Capture Support:YesUncompressed Format:14-bit RAW, MRAW, SRAW, RAW+JPEGMovie File Format:MP4/MOV (Video: H.264 Intra-Frame / Inter-Frame, Audio: Stereo AAC/Linear PCM)Included Memory:No memory includedIncluded Memory Type: ConnectivityBuilt-In Wi-Fi:NoNFC:NoBluetooth:NoBuilt-In GPS:YesMicrophone Jack:YesHeadphone Jack:YesExternal Connections:USB 3.0 Super SpeedPictBridge Compliant:YesDPOF Compliant:YesRemote Control:YesRemote Control Type:Optional wired or wirelessConnections (extended):Mini (Type-C) HDMI, 3.5mm Microphone Jack, 3.5mm Headphoe Jack, N3 Remote JackPerformance TimingCycle time for JPEG shooting in single shot mode (seconds per frame, max resolution):<0.3Cycle time for RAW shooting in single shot mode (seconds per frame):<0.3Buffer size for RAW shooting in single shot mode (frames): Cycle time for RAW+JPEG shooting in single shot mode (seconds per shot):<0.3Camera penalizes early shutter press?NoJPEG shooting speed in burst mode (fps, max resolution):9.5Buffer size for JPEG shooting in burst mode (frames, max resolution):103RAW shooting speed in burst mode (fps):9.5Buffer size for RAW shooting in burst mode (frames):26RAW+JPEG shooting speed in burst mode (fps):9.4Buffer Size for RAW+JPEG shooting in burst mode (frames):18Shutter lag (full AF, wide/mid):0.25 secondsShutter lag (full AF, tele): Shutter lag (full AF, live view - DSLR):0.26 secondsShutter lag (prefocused, live view - DSLR):0.052 secondsShutter Lag (manual focus):0.154 secondsShutter lag (full AF, with flash):0.37 secondsShutter Lag (prefocused):0.052 secondsShutter Lag (notes):Additional OVF:Full AF, 65-point Auto AF iTR On (default) = 0.398sFull AF, 65-point Auto AF iTR Off = 0.305sLive View:Full AF lag (center)= 0.256sPrefocused = 0.052sStartup Time:0.5 secondsPlay -> Record Time:0.3 secondsFlash cycle time, full power:3.2 secondsPowerBattery Life, Stills (CIPA Rating Monitor/Live View):250 shots Battery Life, Still (CIPA Rating OVF/EVF):670 shots Battery Life, Video: Battery Form Factor:ProprietaryUsable Battery Types:LP-E6N/LP-E6 Lithium-ion rechargebleBatteries Included:1 x Proprietary LP-E6N Lithium-ion rechargeableBattery Charger Included (dedicated charger or AC/USB adapter):YesDedicated Battery Charger Included:YesInternal Charging Supported:NoSoftwareIncluded Software:Canon Solutions Disc (EOS Utility, ZoomBrowser EX/ImageBrowser, Digital Photo Professional.Picture Style Editor, Movie Edit Task, PhotoStitch, Memory Card utility,)OS Compatibility:Windows, Mac OS XMiscellaneousNotes & Features:20.2 megapixel APS-C Canon CMOS with Dual Pixel CMOS AF system, Dual DIGIC 6 Image Processors, up to 10fps burst mode, new 65-point all cross-type AF, 150K-pixel RGB+IR 252-zone metering sensor, Full HD videos up to 60p in ALL-I or IPB codecs.
Click here to buy, and to see similar items on eBay
---
Category: Cameras and Photography:Digital Cameras
Location: Orpington, Kent