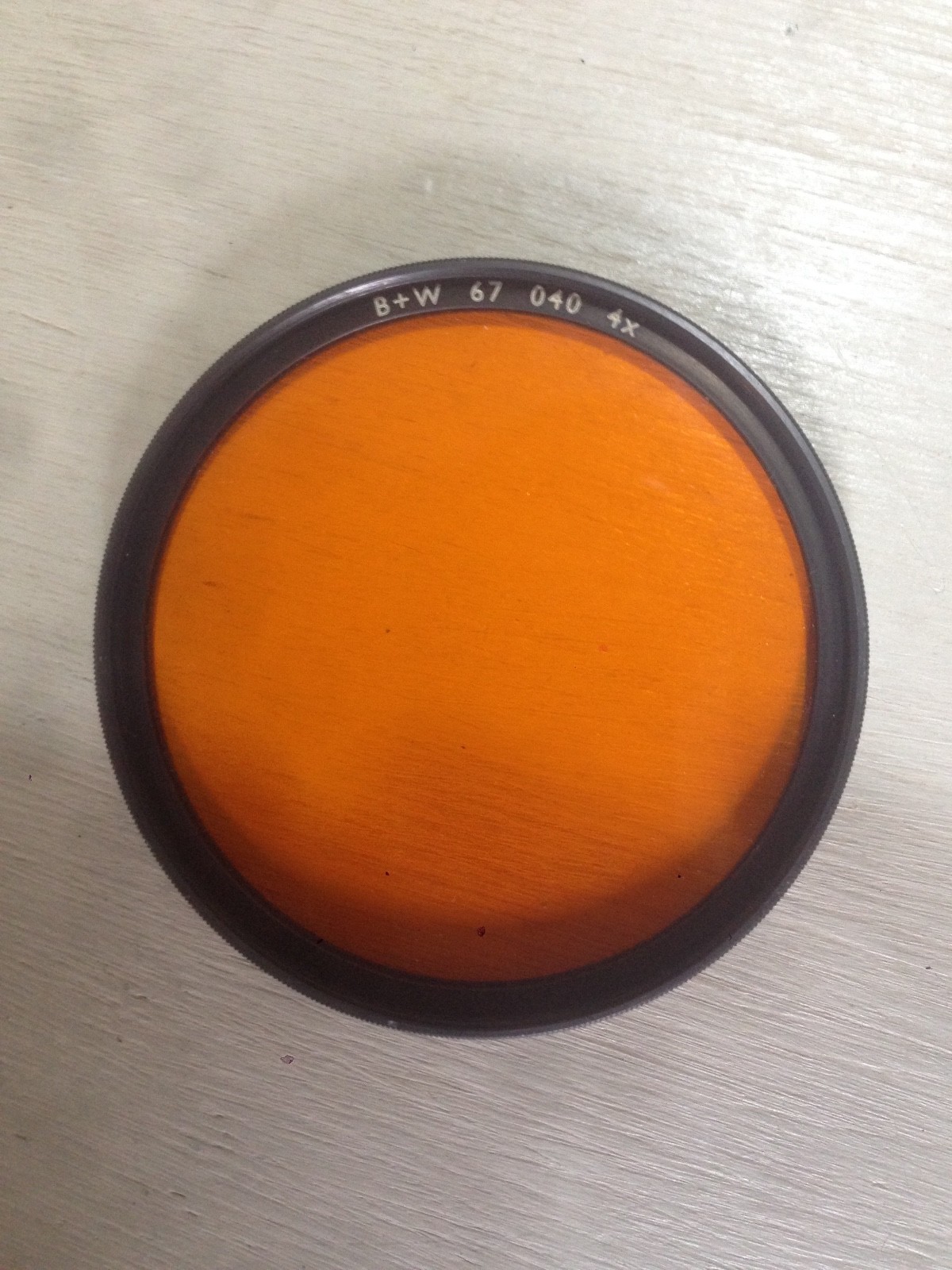 Click here to see similar items on eBay, and to buy.
B+W 67mm 040 F-Pro Orange Filter. In excellent condition as was hardly used. Dispatched with Royal Mail 2nd Class Signed For.
B + W orange filter 040
Yellow, orange and red filters are classic contrast filters in black and white photography. These filters can be used to influence the conversion of the motif colors into corresponding shades of gray. In general, the inherent color of the filter appears brighter in the image and the complementary color is darker. An orange filter brightens yellow and orange and gives blue a much darker color.
The classic application of the orange filter is in landscape photography to darken the blue sky, which is thus rendered more effective. Green can seem a little darker. In portrait photography, redness and blemishes can be alleviated with the orange filter.
The B + W Orange Filter 040 blocks wavelengths up to about 550 nm (50% transmission). In the case of common panchromatic films, a change in exposure of one and a half to two stops is generally to be expected. In the case of exposure measurement through the filter or TTL exposure measurement, this is in principle automatically taken into account. Depending on the camera and film type used, however, an additional exposure compensation of +1 exposure level may be useful. Please do your own tests here.
MRC multilayer coating
B + W's Multi Resistant Coating consists of a perfect broadband multilayer anti-reflection coating (7 layers per side) that reduces reflection losses to well below 0.5%. The hydrophobic surface has been supplemented by an outer layer with remarkable properties. On the one hand, this layer protects the filter from scratches by a layer-hardening property. On the other hand, this surface provides a dirt and water repellent effect. This makes it easy to clean the filter surface.
F-Pro version
The F-Pro version is B + Ws allrounder under the filter holders. Each B + W filter is available in this version. It has a high mechanical stability but low overall height and offers a complete front thread for covers or other accessories.
All versions of the B + W Professional Line are precisely made of brass. Brass is known for its dimensional stability and robustness, which ensures a durable smooth-running screwing and unscrewing. The filter glass is free of play and tension in the brass frame and thus optimally exactly flat, which achieves the highest imaging performance. With the exception of the silver-colored digital Pro holders, all versions are matt black chrome-plated. This prevents possible influences due to reflections on the socket.
Click here to buy, and to see similar items on eBay
---
Category: Cameras and Photography:Lenses and Filters:Filters
Location: Brighton